How to Prepare English section for SSC CGL 2017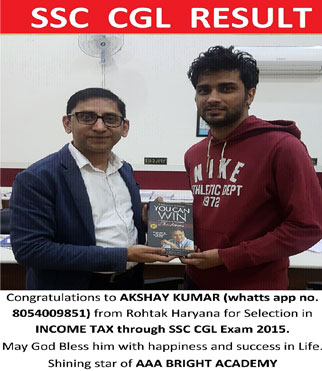 Prepare for English section for SSC CGL 2017
Keeping in mind the new online pattern of CGL from 2016 which saw the exam being conducted online for the first time and exam being divided into 4 Tiers. English language still retains the maximum importance across all tiers taken together in ssc preparation 2017. Let's analyse tier -1 in this article.
SSC CGL 2017 TIER 1
English section consists of 25 questions of 2 marks each with a negative marking of 0.5 in case of a wrong answer. The difficulty level is expected to be form easy to moderate and broadly consisted of the following topics in 2016.
Reading Comprehension – 5 Qs (Easy)
Antonym & Synonym – 4 Qs (Easy)
Idiom/phrases – 3 Qs (Moderate)
Spelling Correction – 1 Qs (Moderate )
Sentence Improvement – 3 Qs (Easy)
One Word Substitution – 3 Qs (Moderate)
Error Detection – 3 Qs (Easy)
Fill in the blanks – 3 Qs (Easy)
Reading Comprehension in SSC CGL 2017
Reading Comprehension being an evergreen topic for testing the language skills of student's remains a hot choice of examiners as well. Skills needed to crack this part is fast reading skills and accurate comprehension without pre judgement or prior knowledge affecting the text in front of the reader.
For improving speed one can try using speed reader application on smart phones and within a span of 3-6 weeks one can considerably improve reading speed which is highly beneficial and gives an upper edge over the rest of the competition.
And most important one should have ample practise as well. A daily habit of reading newspaper editorials to be familiar with vast varieties of topics and different styles of writing.
Vocabulary section in SSC CGL 2017
 Vocabulary section can be handled with ease if one has strong grip over root words. One book strongly recommended for this section is "Word power made easy – by Norman Lewis". This part will be helpful to tackle one word substitution , synonyms and antonyms, and cloze test.Students can join top coaching institute for ssc coaching in chandigarh
Idioms and Phrases in SSC CGL 2017
 Idioms and Phrases – The idioms section may trick a few students as there is a tendency for the unconventional idioms and phrases to appear in the exam . To overcome this hurdle one may go through a list of not more than 350 idioms which will the required confidence for the examination and also ensure securing of assured marks.
Error detection and Sentence Improvement in SSC CGL 2017
Error detection and Sentence Improvement – Basic knowledge of parts of speech and decent amount of practise of past year papers is the key to score good in this part of the section. It becomes relatively simple once all rules are revised and thorough. One of the key areas to be focussed on is the subject verb agreement as many errors revolve around this concept.For this sections students can join best coaching institute for ssc coaching in chandigarh
Fill in the blanks in SSC CGL 2017
 Fill in the blanks – This section generally comprises of prepositions or phrasal verbs (prepository phrases) and need basic understanding of prepositions and  figurative meaning of phrasal verbs must be learnt by heart as these comprise a good portion of the total exam directly or indirectly.